BM3411-b maXX 5800-Baumueller Việt Nam
Mô tả:
BM3411-b maXX 5800
b maXX 5800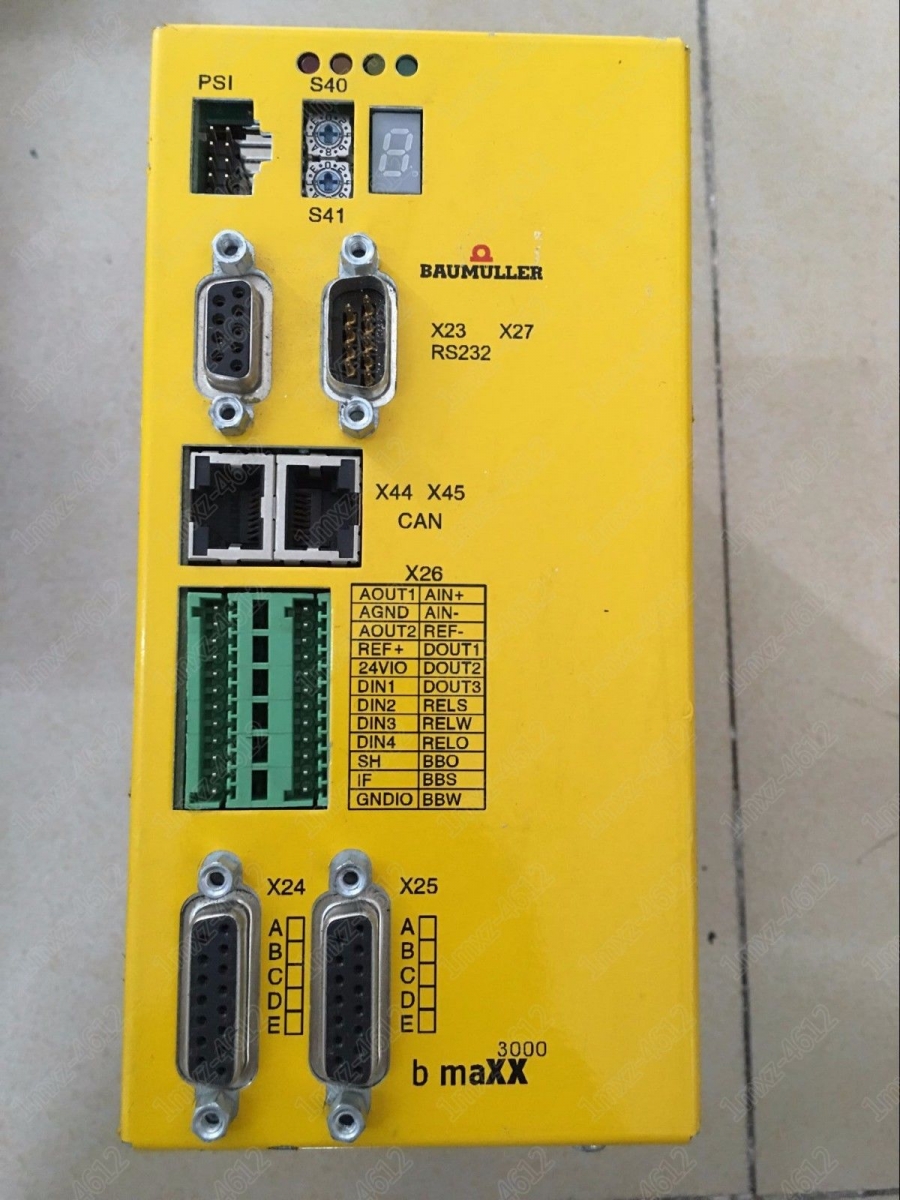 For controlling up to six drive axes
With the new multi-axis controller b maXX 5800, Baumüller provides a compact solution for controlling up to six drive axes, e.g., for robot and handling applications. The new controller can be configured individually and fully flexibly. This means that the user can freely combine axis powers in the controller. He can also integrate the exactly right axis power for every single axis. The result is a device that meets the requirements of his application perfectly. As part of the b maXX 5000 family, the b maXX 5800 is fully compatible with the modular systems made by Baumüller. An alternative can be offered for applications, where compactness is key.
The combination of six independently controllable axes into one controller enables significantly faster communication in the system than with separate axis units. Dead times due to field bus communication are omitted. For example, gantry axes can be calculated within one CPU. The combination also reduces wiring costs, as one field bus connection only is required for all axes.
---
Six at Once - Interview with Karlheinz Wirsching
---
Technical data b maXX 5800 multi-axis controller
metric / imperial
| Type | Width [mm] | IN [A] | IMAX [A] | typ. motor rating [kW] | Overload factor |
| --- | --- | --- | --- | --- | --- |
| Single axes | 50 | 3 | 6 | 1.6 | 2 |
| | 50 | 6 | 12 | 3.2 | 2 |
| | 50 | 12 | 24 | 6.5 | 2 |
| | 50 | 20 | 40 | 10.8 | 2 |
| | 50 | 30 | 60 | 16.2 | 2 |
| | 75 | 40 | 60 | 21.6 | 1.5 |
| | 75 | 60 | 90 | 32.4 | 1.5 |
| Double axes | 50 | 2 x 3 | 2 x 6 | 2 x 1.6 | 2 |
| | 50 | 2 x 6 | 2 x 12 | 2 x 3.2 | 2 |
| | 75 | 2 x 12 | 2 x 24 | 2 x 6.5 | 2 |
| | 75 | 2 x 20 | 2 x 40 | 2 x 10.8 | 2 |
| | 75 | 2 x 30 | 2 x 60 | 2 x 16.2 | 2 |
| | 75 | 2 x 40 | 2 x 60 | 2 x 21.6 | 1.5 |
| | 75 | 2 x 60 | 2 x 90 | 2 x 32.4 | 1.5 |
The multi-axis controller can be composed from this data
Subject to change
Name
Model
Drive Electronics
BM 5031
BM 5032
BM 5043
BM 5044
BM 5072*
BM 5073*
BM 5074*
BM 5075*
BM 5143
BM 5174
BM 5182*
BM 5183*
BM 5192*
BM 5193*
BM 5323
BM 5325
BM 5326
BM 5327
BM 5328
BM 5331
BM 5332
BM 5333
BM 5334
BM 5335
BM 5372*
BM 5373*
BM 5374*
BM 5375*
BM 5382*
BM 5383*
b maXX 5800
BM 5512*
BM 5513*
BM 5522
BM 5523
BM 5524
BM 5525
BM 5526 3)
BM 5532
BM 5533
BM 5534
BM 5535
BM 5543
BM 5544
BM 5545
BM 5546
BM 5553
BM 5554
BM 5562
BM 5563
BM 5566
BM 5572
BM 5573
BM 4412
BM 4413
BM 4422
BM 4423
BM 4424
BM 4425
BM 4426
BM 4432
BM 4433
BM 4434
BM 4435
BM 4443
BM 4444
BM 4445
BM 4453
BM 4454
BM 4462
BM 4463
BM 4472
BM 4473
BM 3302
BM 3303
BM 3304
BM 3312
BM 3313
BM 2405
BM 2410
BM 2415
BM 2430
Frequency converter
BM 1211
BM 1212
BM 1213
BM 1224
BM 1225
BM 1412
BM 1413
BM 1414
BM 1425
BM 1426
BM 1437
BM 1438
BM 1439
DC drives
BKD/BKF 7000
BM3411-b maXX 5800-Baumueller Việt Nam
Bình luận của bạn
Danh mục sản phẩm
Trực tuyến:

4

Hôm nay:

892

Tuần này:

5805

Tháng trước:

10730

Tất cả:

415040